Each month we post an annotated bibliography of books that were rated 'Outstanding' and nominated for our Distinguished List at our previous month's meeting.  Members can see full reviews of these books and many more in the November edition of BayViews.  Not a member?  Join, come to our monthly meetings, and hear about these outstanding books in person!
PICTURE BOOKS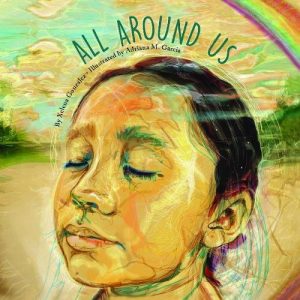 All Around Us written by González, Xelena and illustrated by Garcia, Adriana M.; Cinco Puntos, 2017.
A small moment between grandfather and granddaughter expands into a larger lesson on cycles in nature.  This meditative picture book showcases a close intergenerational bond with lively illustrations of nature's interconnectedness.  (Grades Kindergarten-2.)
Come With Me written by McGhee, Holly M. and illustrated by Lemaître, Pascal; G.P. Putnam's Sons, 2017.
A unique and timely picture book to remind all that no one is too small to make a difference in the world.  Lemaître's ink and watercolor illustrations pop from the vast white space, bringing the text to life while maintaining the low key mood of the piece.  (P-3.)
When the Snow Falls written by Sweeney, Linda Booth and illustrated by Christy, Jana; G.P. Putnam's Sons, 2017.
Multiracial young siblings and the loving grandparents enjoy a day of fun in the snow that takes them from the countryside to a busy city, and finally back inside to the warmth of a fire, hot cocoa, and each other.  This sweet picture book with vibrant illustrations and gentle rhyming text is well suited for seasonal read-alouds.  (P-2.)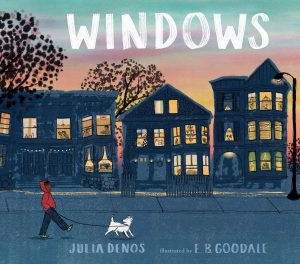 Windows written by Denos, Julia and illustrated by Goodale, E.B.; Candlewick, 2017.
Windows is a quiet, yet lush day-in-the-life book that manages to turn walking the dog and then returning home into a warm, lovely story.  This book warrants a piece of the valuable real estate that is school and public library shelves.  (P-3.)
The Wolf, The Duck, & The Mouse written by Barnett, Mac and illustrated by Klassen, Jon; Candlewick, 2017.
When wolf swallows mouse, he meets a duck inside the belly of the beast who shares meals and imparts wisdom to mouse and yells advice to the wolf, while living comfortably within him, in this absurd picture book.  (P-3.)
Yak and Dove written by Maclear, Kyo and illustrated by Shapiro, Esme; Tundra/Penguin Random House, 2017.
A charming take on the odd-couple friendship written in a quirky repartee between introverted Yak and noisy, ill-mannered Dove presented in three interconnected tales and illustrated with playful watercolor, gouache and pencil illustrations.  Children of all ages will be able to connect with the frolicsome humor and occasional difficulties of friendship presented in this picture book.  (P-2.)
FICTION
Akata Warrior
written by Okorafor, Nnedi; Viking/Penguin Random House, 2017.
Sunny Nwazue deepens her understanding of both herself and her magical powers as she fights a battle to save humanity itself, in a completely believable world which combines modern Nigeria with the fantasy setting Okorafor creates.  (8- Adult.)
Release written by Ness, Patrick; HarperCollins; 2017.
Ness's masterful speculative YA novel tracks gay, white, rising senior Adam Thorn over the course of one "eternal pivotal day" and intersperses the exquisite realistic novel with snippets of an apparently unrelated fantasy story.  (10-12.)
That Inevitable Victorian Thing written by Johnston, E.K.; Dutton/Penguin Random House, 2017.
In an alternate future, the British Empire has become a "cosmopolitan, multiracial mosaic."  Three young adults, each with a secret, meet at a debut ball in Toronto, and this quirkily appealing YA novel's heart shows how the relationships between these well-crafted characters develops in an intriguingly odd world.  (9-12.)
They Both Die at the End written by Silvera, Adam; HarperCollins, 2017.
This magnificent and haunting YA novel is set in an alternate present day New York in which Death-Cast alerts you on the day of your death.  Two teen, Latinx boys who have received this call spend their last day together ensuring that they live before they die.  (9-12.)
The War I Finally Won written by Bradley, Kimberly Brubaker; Dial/Penguin Random House, 2017.
Ada is still recovering from her traumatic past: unable to walk, read or write and trapped in an East London flat with her sadistic and bitter mother.  In this sequel to the Newbery Honor-winning The War That Saved My Life (Dial/Penguin Random House, 2015), she obtains a successful operation on her club foot, and her ties to her new guardian, Susan, and the Thorton family who have taken her and Susan in, are deepened and strengthened as World War II continues.  (5-12.)
FOLKLORE
Norse Myths: Tales of Odin, Thor, and Loki written by Crossley-Holland, Kevin and illustrated by Love, Jeffrey Alan; Candlewick, 2017.
A comprehensive and beautifully illustrated retelling of Norse myths about Odin, Thor and Loki.  With dark and compelling block prints and well-written traditional myths, the book is satisfying and well-produced.  (6-Adult.)
BIOGRAPHY
Schomburg: The Man Who Built a Library written by Weatherford, Carole Boston and illustrated by Velasquez; Candlewick, 2017.
This lushly illustrated biography of African-American historian Arturo Schomburg is constructed as a series of free verse poems, each focusing on one aspect of the subject's life, including his work establishing what is now named the Schomburg Center for Research in Black Culture, a division of the New York Public Library.  Velasquez's oils on watercolor paper illustrations are elegant, dramatic, and heroic.  (4-7.)