Each month we post an annotated bibliography of books that were rated 'Outstanding' and nominated for our Distinguished List at our previous month's meeting.  Members can see full reviews of these books and many more in the March edition of BayViews.  Not a member?  Join, come to our monthly meetings, and hear about these Outstanding books in person!
FICTION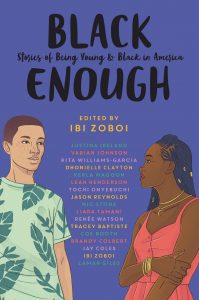 Black Enough: Stories of Being Young & Black in America edited by Zoboi, Ibi; Balzer + Bray, 2019.
Ibi Zoboi and sixteen other black authors create an anthology filled with stories "about teens examining, rebelling against, embracing or simply existing within their own idea of Blackness."  A remarkable collection that gracefully and honestly addresses race, culture and adolescence in America.  (Grades 8-12.)
Lovely War written by Berry, Julie; Viking/Penguin Random House, 2019.
Two couples find love during the horrors of World War I in this gorgeous and lush YA romance, framed by a quarrel between the Greek gods representing the novel's big themes of love, war, art, and death.    (9-12.)
On the Come Up written by Thomas, Angie; Balzer + Bray, 2019.
Sixteen-year-old Bri raps to express her feelings, but when an opportunity arises to be able to make money from her rapping, she has to decide whether the price is worth it.  An incisive and nuanced look at perceptions and personas of black teens in this stunning follow-up to The Hate You Give.  (8-12.)
GRAPHIC NOVELS
Bake Like a Pro! (Maker Comics) written and illustrated by Koch, Falynn; First Second, 2019.
One in a new series of how-to comics for children, Bake Like a Pro! teaches young makers the science of baking using funny, relatable situations paired with simple step-by-step instructions.  Perfect for future chefs and inexperienced cooks alike, this title demystifies baking making it accessible and fun.  (3-7.)
New Kid written and illustrated by Craft, Jerry; HarperCollins, 2019.
Jordan begins seventh grade at an elite school which is much different from his local school due to its lack of ethnic diversity – Jordan is one of a handful of African American students but learns to make friends and fit in while dealing with micro-aggressions from students and teachers.  (4-8.)
BIOGRAPHY
Planting Stories: The Life of Librarian and Storyteller Pura Belpré written by Denise, Anika Aldamuy and illustrated by Paola Escobar; HarperCollins, 2019.
This picture book biography of noted librarian Pura Belpré describes her work in NYC with Spanish-speaking children and her promotion of folklore, puppetry, and storytelling.  (K-3.)