Holiday Picture Book Roundup – Short reviews of new Christmas picture books: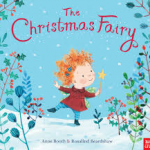 Booth, Anne. The Christmas Fairy. Illus. by Rosalind Beardshaw. Nosy Crow/Candlewick, 09/2017, [32p.] $15.99, 978-0-7636-9629-0.     At Fairy School, the little redhead is too rambunctious to follow directions, but Santa sees her talent and asks her to sing and dance at the holiday show. The rhyming text works well but the artwork depicting the young multicultural fairies is too much like a greeting card. Not a great choice although some may enjoy this celebration of individuality. 
Brockenbrough, Martha. Love, Santa. Illus. by Lee White. Arthur A. Levine/Scholastic, 09/2017, [32p] $17.99, 978-0-545-70030-6.     Although the
small envelopes and letters that are part of this picture book are not really conducive to library circulation, this story will resonate with many older children. A series of letters between Lucy and Santa progressively question Santa's existence as Lucy gets older, and she learns that parents are Santa's real helpers. The watercolor artwork is distinctive and suited to the story;  you can recommend it to parents dealing with children questioning Santa.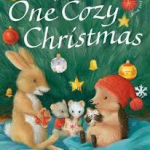 Butler, M. Christina. One Cozy Christmas. Illus. by Tina Macnaughton. Tiger Tales, 09/2017, [28p.] $16.99, 978-1-68010-068-6.     Several forest animals get together to celebrate Christmas by cutting down a tree, making cookies, and ice skating until Little Hedgehog loses his hat. The red knit cap is flocked, adding a touch-and-feel aspect to the full color paintings of relatively realistic-looking animals that populate the story. Although not particularly original, this is fun. 
Clarkson, Kelly. River Rose and the Magical Christmas. Illus. by Lucy Fleming. Harper, 10/2017, [32p.] $19.99, 978-0-06-269764-6.  
   In this charming rhyming story by award-winning singer Clarkson, the title character visits Santa to see him at work, before returning home. With full color energetic cartoonish illustrations done with paint, this is a story to which many children will relate and the rhyme is solid. 
Corderoy, Tracey. It's Christmas! Illus. by Tim Warnes. Tiger Tales, 09/2017, [28p.] $16.99, 978-1-68010-067-9.     A family of rhinos who wear clothing star in this story of an accident-prone child whose enthusiasm for Christmas decorating goes awry. With a hand-lettered text and cartoonish watercolor art, this is a story that will make many parents laugh and kids will enjoy it, too.  
Dudàs, Gergely. Bear's Merry Book of Hidden Things. Harper, 09/2017, [32p.] $14.99, 978-0-06-257078-9.     Similar to the
"Where's Waldo?" series, here the reader is asked to find Christmas and winter-themed items for a little brown bear. The full color artwork is not as detailed as the Waldo books, making this a little easier to find things, but there is no answer page so one cannot be sure the puzzle was solved. Skip.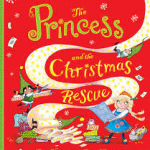 Hart, Caryl. The Princess and the Christmas Rescue. Illus. by Sarah Warburton. Nosy Crow/Candlewick, 09/2017, [32p.] $16.99, 978-0-7636-9632-0.     A lonely princess spends time in her room inventing machines that perform tasks; she visits Santa's workshop and helps out with innovations to help build and wrap gifts. The rhyming text is Seuss-like, and the full color cartoon artwork is packed with amusing details. For "Frozen" fans, this is a little too long for storytime but fun. 
Jeffers, Susan. Jingle Bells. Harper, 09/2017, [36p.] $17.99, 978-0-06-236020-5.     Jeffers is very talented when it comes to illustrations of horses, so this
interpretation of the popular Christmas carol works well. A modern family with a white Westie dog uses a horse-drawn sleigh to visit Santa and his wife, going past several forest animals. Although the text is slightly different than the song lyrics, this will work well as a read-aloud for storytime, but the sheet music is not included.   
Knapman, Timothy. The Winter Fox. Nosy Crow/Candlewick, 10/2017, [24p.] $14.99, 978-0-7636-9631-3.   Similar to Aesop's "Ant and the Grasshopper," fox is urged by forest friends owl, squirrel, and rabbit to prepare for winter. When the snow comes, fox doesn't have any food or shelter but gifts fall out of a tree and fox shares those with everyone. Silver glitter is embedded in the colorful paintings that depict realistic animals, and the original solution about sharing is a nice touch. Some repetition makes this a good choice for storytime, and it focuses more on winter than Christmas so it is more inclusive for storytime presenters seeking a non-religious December read-aloud.  
Paquette, Ammi-Joan. Elf in the House. Illus. by Adam Record. Candlewick, 09/2017, [32p.] $15.99, 978-0-7636-8132-6.     A little girl wakes up
Christmas Eve and sees an elf and Santa before going back to bed. Not much of a story, and the computer-generated artwork is not up to the standard of most picture books, making this a book most libraries will not need. 
Toht, Patricia. Pick a Pine Tree. Illus. by Jarvis. Candlewick, 09/2017, [36p.] $16.99, 978-0-7636-9571-2.     In this celebration of Christmas trees, the rhyming text has rhythm and bounce: "Pick a pine tree from the lot – slim and tall or short and squat."  The artwork is equally engaging, depicting an ethnically diverse group of friends decorating the tree; the illustrations were done using pencil, chalk, and paint and have a retro-quality. Sure to be a hit at storytime.
Penny Peck, San Jose State University iSchool