Out of the Ordinary: Reissues and other unusual books
Engelbreit, Mary. Mary Engelbreit's Nursery and Fairy Tales Collection. Illus. by Mary Engelbreit. Harper, 2014. $11.99. ISBN 978-0-06-228707-6.
Although Engelbreit's colorful and pleasantly sweet illustrations are nice, this book has a fatal flaw: no source notes. Worse, it includes several stories by Hans Christian Andersen with no mention of his name. The low price indicates this was made to sell to parents, not libraries, but that is no excuse for these omissions.
The retellings are brief and relatively free of violence. For example, Red Riding Hood is swallowed by the wolf, but the woodcutter convinces the wolf to let Red and granny "step out unharmed. Embarrassed, the wolf ran away." The Gingerbread Man also runs away, and is not eaten by the fox. Another unusual ending occurs for the Little Mermaid, who doesn't dissolve into the foam of the sea, but rises into the air with "friendly spirits" that look like angels. Although Andersen's original also ended with her gaining a soul, the picture of the Little Mermaid and the angels is too literal. It appears that these "kind" versions are intended for very young children.
The illustrations appear to be done using watercolor or gouache, and for the most part depict a European setting during the Middle Ages. The exception is "Aladdin," set in the Middle East. A few of the European stories feature non-white characters, including an African-American Thumbelina and Jack and his mother of Beanstalk fame, but those are the only exceptions.
Ten of the stories were previously published in Mary Engelbreit's Fairy Tales: Twelve Timeless Treasures in 2010, including "Aladdin," "Snow White and the Seven Dwarfs," "Cinderella," "The Frog Prince," and "The Little Mermaid." If a library has that book, this one is not a good choice due to the overlapping content.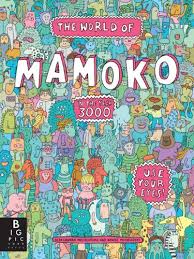 Mizielinska, Aleksandra. The World of Mamoko In the Year 2000: Use Your Eyes! Illus. by Daniel Mizielinski. Candlewick, 2014. $17.99. ISBN 978-0-7636-7125-9.
First published in Poland in 1912, this is the second Mamoko book; the previous was Welcome to Mamoko: Use Your Eyes! (2013). Basically this is a "Where's Waldo?" – type of wordless book; the first spread has a spot illustration of each character (28 in all, one is a family) with a one sentence description. The following spreads are wordless, and readers are encouraged to find the various characters and make up a story about what is happening in the illustrations.
Mamoko is the world in which these various characters live; many are animals in clothing but some are extraterrestrials. On spread depicts their apartments, others a park, shopping mall, factory, and music concert. The full color illustrations appear to be hand-drawn ink cartoons, colored with a nice palette of soft greens, pinks, blues, and yellows.
The characters may live in the future but they generally do everyday tasks from shopping to exercising. Overall, this will have some appeal but seems to lack a cohesive quality.
Lemanski, Mike and Chris Oxlade. Planes, Trains, and Automobiles: A Visual History of Modern Transportation Featuring 100 Iconic Designs. Illus. by Mike Lemanski. Big Picture Press, 2014. $17.99. ISBN 978-0-7636-7121-1.
Measuring six and a half feet, this concertina folded timeline of transportation will be great for the museum gift shop but won't hold up to library use. One hundred modes of transportation are depicted, from various ships, horse-drawn Hansom cabs, bicycles, and other early 1800's devices to airplanes, cars, and a Segway (unfortunately, no cable car).
On one side of the foldout are the illustrations of the various types of transportation. The digitally-created artwork resembles ink and watercolor drawings, and covers machines from all over the world with the bulk coming from England and the U.S. On the other side of the foldout are small paragraphs of information on each of the items, with the year they were introduced and in what country. For example, for the Model T Ford, 1908, U.S., the brief description says this car was made to be affordable for the average person, selling more than 15 million cars. For the Titanic, 1912, U.K., it is described as the largest ship in the world when it launched, and describes its sinking.
Clearly a browsing item for transportation fans, this will have a wide age appeal and makes a great gift book.
Lester, Helen. Hurty Feelings. Illus. by Lynn Munsinger. Houghton Mifflin Harcourt, 2004/2014. $8.99. ISBN 978-0-544-10622-2.
Lester, Helen. Princess Penelope's Parrot. Illus. by Lynn Munsinger. Houghton Mifflin Harcourt, 1996/2014. $8.99. ISBN 978-0-544-10606-2.
Two of Lester-Munsinger's classic picture books have been reissued with downloadable audio files, so readers can visit the website www.hmhbooks.com/freedownloads to have the story read to them. The access code is on the verso of the title page, so it will be easy for those using library copies to hear the audio file. The website also offers a free discussion and activity guide that teachers will find especially useful.
The narrators for the two books that this reviewer heard were young women, who spoke at a measured pace that will be perfect for emergent readers who would like to follow along. The narrators were clear and had a good energy that will draw in listeners. There are some subtle background noises that augment the story, such as jungle noises, and there are page-turning signals that sound like chimes.
The books are not adapted or abridged, but appear in the original format. Munsinger's pastel watercolor and ink cartoons add much humor to Lester's stories; this pair is a true collaboration. Although these stories have messages such as sharing, being kind, and so forth, they are not didactic.
Other reissues by Lester and Munsinger that have the free audio download include It Wasn't My Fault, Listen Buddy, A Porcupine Named Fluffy, Me First, The Sheep in Wolf's Clothing, and The Wizard, the Fairy, and the Magic Chicken. These would be great replacement copies if your originals are worn or missing.
Penny Peck, San Jose State Univ. SLIS