Carter, David A. Princess Bugs: A Touch-and-Feel Fairy Tale. Little Simon, 2013. $12.99.  ISBN 978-1-4424-5055-4.
This small book doesn't have Carter's customary pop-ups; all the illustrations are flat. But the book does contain tactile elements, including lace, foil, fleece, and velveteen inlays. These don't add much to the cartoonish insects that illustrate the story. The story is relatable: Bitsy loves princess stories, and she dreams she is in a magical land where a frog becomes her prince. Not very innovative or original, and not even inspired enough to please fans requesting "princess" books.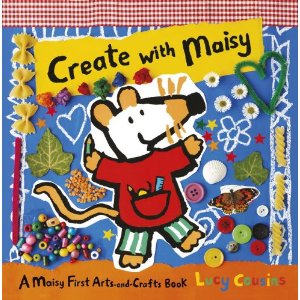 Cousins, Lucy. Maisy Grows a Garden: A Maisy First Science Book. Candlewick, 2013. $14.99. ISBN 978-0-7636-6242-4.
Seven spreads depict the little white mouse Maisy doing traditional gardening chores: digging, planting seeds, watering, pulling weeds, and picking the vegetables. She is accompanied by a little panda that is helping her. The narrative is a straightforward description; it is the deeply saturated cartoon artwork that stands out. Also, the pull-tabs bring out real action, with plants popping out of the soil, and tomatoes bursting from a plant. Perfect for a gardening-themed storytime.
Jenkins, Steve, and Robin Page. Animals Upside Down: A Pull, Pop, Lift & Learn Book!  HMH, 2013.  $24.99. ISBN 978-0-547-34127-9.
Animals that sleep, eat, or defend themselves by hanging or standing upside down are the focus of this nonfiction book, that contains pop-ups and pull tabs. These include flamingoes that feed upside down, or the pale green weevil that "plays dead" on its back to ward off spiders. Jenkins torn paper collage animals on white backgrounds are so realistic, you can almost smell the skunk, or get the creeps from the snake! Because this is nonfiction (and should be shelved as such), the moveable elements may stand up to library circulation since older children are the likely readers and will take care. The text on each animal is only a sentence or two, but enough to inspire further research. The final spread has a postage stamp-sized illustration of each animal along with a paragraph of information, reinforcing what has been learned in the main portion of the book. Sure to attract browsers and reluctant readers, this is perfect for the student who is thinks he is not in the mood for a book.
Numeroff, Laura. Lots of Lambs: A Touch, Feel, Flip, and Fun Book! Illus. by Lynn Munsinger. HMH, 2012. $9.99.  ISBN 978-0-547-40206-2.
In this amusing rhyming story, lambs demonstrate the concept of opposites: "Sitting lambs, Standing lambs, Lambs in the rain." The simple rhymes are illustrated with Munsinger's signature soft pencil and watercolor wash artwork, which adds a wry touch.  For example the City lambs are hailing taxis and talking on their cell phones. The book also contains some tactile elements, such as the fleecy lamb on the cover, as well as flaps that open to depict a scene.   Some embellishments not very innovative like the kite string, but overall, the concept of opposites is demonstrated clearly and the lambs have charm.
Penny Peck, San Jose State University, School of Library and Information Science