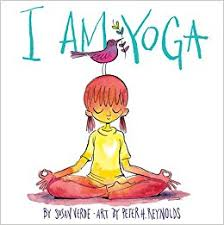 Tuesday June 5 @noon Pacific – STRETCH Your
Storytime! Supporting early learning with yoga and movement
Presented by Katie Scherrer
<https://infopeople.org/civicrm/event/info?id=774&reset=1>
The centuries-old contemplative practice known as "yoga" is much more than a
passing trend; it has physical, cognitive, and social-emotional benefits for
practitioners of all ages, including preschool age children and their
caregivers. This webinar will introduce participants to ways in which the
intentional use of yoga-inspired movement in the storytime setting can
support and enhance the work of youth services library staff and others
helping prepare young children for school success. Participants will be
exposed to new ideas and great books they will be excited to share. No prior
yoga experience required!
At the end of the webinar attendees will:
. Be able to articulate at least one way yoga-inspired movement
supports physical literacy, early literacy and social-emotional learning
. Know the basic components of planning and implementing a yoga
storytime.
. Know several basic yoga shapes they can use in their storytimes
For a complete description and to register go to:
<https://infopeople.org/civicrm/event/info?id=774&reset=1>
https://infopeople.org/civicrm/event/info?id=774&reset=1