DO IT YOURSELF PROGRAMMING
"Geronimo Stilton" Series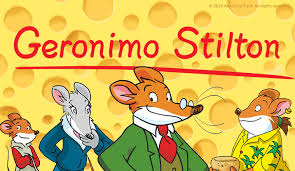 The "Geronimo Stilton" series of illustrated moving up chapter books are a great focus for a do-it-yourself library program, because it appeals to a wide age range. Originally published in Italy, the chapter books concern a mouse who runs a city newspaper (all the characters are mice who where clothing and live in the city). The books are "written" by Geronimo Stilton, too. Special thanks to Amanda Carey for suggesting this topic for an arts and game program, and for offering some of the activities.
Refreshments – It is no surprise that pizza is Geronimo's favorite food. Serve pizza and lemonade.
Display – Along with your display of "Geronimo Stilton" books to check out, add children's books on Italy, including Italian folktales, cookbooks, and biographies of great Italian-Americans.
Icebreaker – Offer some booktalks on "Geronimo Stilton" books to promote check-outs.
Arts and Crafts
Cheese Corner Bookmarks: Make this simple Swiss cheese paper bookmark: www.redtedart.com/cheese-corner-bookmark/
Newspaper Hats: www.dltk-kids.com/crafts/columbus/newspaper_sailors_hats.htm
Mice Paperbag Puppets: www.dltk-teach.com/rhymes/paper_bag_mouse_puppet.htm
Find more activities at: https://kids.scholastic.com/kids/books/geronimo-stilton/
Games
Ring the Cheese: Obtain some large yellow sponges, and cut into triangles so they look like wedges of cheese. Place them on the ground, and have player toss three embroidery hoops at the wedges, trying to "ring the cheese." Award prizes on number of times they can get the hoop over the cheese.
Newspaper Toss: Ball up pieces of newspaper into softball-size balls. Give players three newspaper balls, and have them toss them into laundry baskets placed six feet away. Award prizes based on how many they can get into the basket.
Newspaper Scavenger Hunt (and other ideas): http://childrensprogramming.blogspot.com/2007/09/afternoon-with-geronimo-stilton.html
Newspaper Bingo: https://thriveafterthree.files.wordpress.com/2014/04/newspaper-search.pdf
Secret Hieroglyphic Message Puzzle: https://geronimostilton.com/GB-en/disegna/details.php?id=12269
Word Find: https://www.scholastic.com/content/dam/parents/migrated-assets/printables/pdfs/Geronimo-Summer-Reading-Event-Kit.pdf
Online Games: https://geronimostilton.com/GB-en/gioca/
Penny Peck, San Jose State Univesity iSchool