Fall Board Book Round-up, Part 2
Last month we offered Part 1 of our annual Fall Board Book Round-up, where we talked about new entries in various series. This month, we will discuss individual titles and favorite characters. Next month in Part 3, we will review recent board book adaptations of picture books.
Individual Board Book Titles
Ajmera, Maya. Global Baby Boys. Charlesbridge, 2014. $6.95. ISBN 978-1-58089-440-1.
This companion to Global Babies (2007) and Global Baby Girls (2013) is a fundraiser for the charity Global Fund for Children. Like the previous books, outstanding color photos of babies from around the world illustrate each page. The text is composed of short phrases about baby boys: "curious, smart, and fun." Each photo has a one-word caption naming the country in which the photo was taken. This multicultural celebration will charm both parents and babies.
Light, Steve. Planes Go. Chronicle Books, 2014. $9.99. ISBN 978-1-4521-2899-3.
This is Light's fourth book about transportation, this time with flying machines as the focus. As with his previous books Trains Go and others, the shape of the book makes it stand out: it measures 6 inches tall by 12 inches wide. This expansive two-foot opening allows for the planes to show movement. The narrative gives the name of the vehicle, along with onomatopoeia including putt putt, swoosh, and ba-boom. Planes include a helicopter, the space shuttle, and a blimp. The watercolors on white backgrounds illustrate the planes in a relatively realistic manner without too many details, making this perfect for toddlers.
Page, Stefan. We're Going to the Farmers' Market. Chronicle Books, 2014. $7.99. ISBN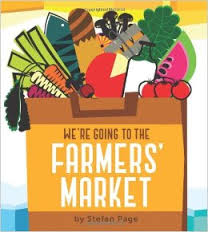 978-1-4521-1834-5.
A lilting rhyme and brightly colored graphical illustrations celebrate a typical farmers' market in this brief board book. The rhyme describes the products available, including fruits, vegetables, and dairy items, and then outlines some of the dishes that you can cook using those products. But it is really the illustrations that make the biggest impact; there is a 1960's retro feel to the piece, with colored shapes making up the booths, bowls, and other items. In a few cases, the representations are a little abstract for babies or toddlers, but most preschoolers will get the picture. This is sure to be popular because of the push for schoolyard gardens and the use of farmers' markets to offer families more healthy food choices, especially in urban areas.
Young, Cybele. Out the Window. Groundwood, 2013. $12.95. ISBN 978-1-55498-370-4.
A small brown furry animal (resembling a hamster) accidentally tosses his ball out the window in this nearly wordless book. The text is made up of a few sound words, such as "boom boom," and one phrase half-way through the book directs the reader it is "time to turn around" and flip the book to the other side. The critter can see a parade passing by the window, when the ball is finally thrown back to him. The format of the book is the distinctive feature; it is an accordion-folded board book in a slipcase, making it somewhat problematic for library circulation since it is likely to be returned without the case. Also, the parade features several ocean animals including an octopus; is the parade under water? This creative, unusual book is probably best for home use only.
Anon. Peekaboo Barn: A Lift-the-Flap Book. Candlewick, 2014. $7.99. ISBN 978-0-7636-7557-8.
Peekaboo Barn is a popular app aimed at young children, to play on a tablet device. This board book version features the same illustration as the main focus of each spread, just varying the animals shown in the barn. The main barn door opens on each page to show an animal, with the small upper door opening on every other page. The text is the sound of an animal, motivating the child to guess what animal will be in the barn. The animals are easy to guess, which allows the child to succeed at the reading experience. Unfortunately, the animals all have over-sized eyes that look kind of creepy! Fans of the app seem like the most receptive audience for this.
Laden, Nina. Peek-a-Zoo! Chronicle Books, 2014. $6.99. ISBN 978-14521-1175-9.
Deeply colored, speckled gouache folk art illustrations are the stand-out feature of this guessing-game story, complete with die-cut holes for peeking. In each spread, the child is instructed to "Peek a," looking through the hole to guess the animal on the next page. It's easy to guess the panda and tiger, but not the kangaroo or cockatoo, making this fun for kids who can read as well as toddlers. The final page has a mylar mirror to guess who else is an animal. This follows Laden's popular Peek-a-Who? published in 2000; hopefully the third book will come out sooner!
Laden, Nina. Daddy Wrong Legs. Chronicle Books, 2014. $6.99. ISBN 978-1-4521-1528-3.
In this tall board book split in half horizontally, the reader can mix the legs of one creature with the top of another. For example, flip hairy gorilla legs under the body of human dad, or the frog legs under the elephants head. The brief rhyming text names the distinctive feature of the animal legs – bony legs, scary legs, etc. Laden's signature dark folk-art gouache illustrations are refreshingly "uncute" in the board book world, making this fun for a wide age range.
Peelis, Yana. Color for Baby. Big Picture Press/Candlewick, 2014. $21.99. ISBN 978-0-7636-7124-2.
The subtitle explains this clearly: "Four board books for baby featuring more than forty famous works by contemporary artists." A box holds four accordion-folded board books, each featuring art that would help a baby identify blue, red, yellow, or green. For example, one of Andy Warhol's Campbell Soup can paintings is in the Red book, and Ray Lichtenstein's "Bananas and Grapefruit 1" is in the Yellow book. Each page contains one work of art, captioned with the artist's name, title of the work, and year produced. The back page of each book contains more information on the works of art, including the size of each, medium used, and other pertinent information.  Clearly, a baby or toddler doesn't care about famous works of art, but will enjoy the colors. This package seems more for parents, who hopefully will use these books to interact with their small children. The packaging makes this difficult for libraries to circulate, so this is probably best sold in museum gift shops, or given as a gift to parents who enjoy modern art.
Favorite Characters
McGuirk, Leslie. Gobble, Gobble, Tucker! Candlewick, 2014. $7.99. ISBN 978-0-7636-6887-7.
The little white dog Tucker (who resembles a Westie), celebrates Thanksgiving in the fourth holiday book featuring this popular character. Like most of us, he anticipates the wonderful food related to the day. The full color cartoon-style illustrations depict Tucker's human family, as well as his two doggy "cousins" who also visit on that day. The story is mainly a description of Thanksgiving activities, from cooking, to playing football on the lawn, to enjoying the meal, but overall, it is somewhat uneventful. Still, for fans, this is a sweet, brief story.
Davies, Benji. Bizzy Bear's Big Building Day. Nosy Crow, 2014. 14.99. ISBN 978-0-7636-7395-6.
In this large board book, measuring 9 ½ inches square, a bear builds a treehouse in his backyard with help from his friends. The book features several die-cut holes and movable imbedded pieces that show the use of tools, including a hammer, paintbrush, drill, and a saw. There are also flaps that open, including the lid of his toolbox, and tabs that pull to show him using the saw, drill, and hammer. The full color cartoon art was created digitally but resembles gouache, and features a teddy bear-like Bizzy. There are several smaller books with Bizzy and his friends that also have moveable elements, making this popular. Luckily, the pages are made from thick cardboard that should stand up to the heavy play of library users. It also would make a great gift book for children who like to play with toy tools.
Cousins, Lucy. Maisy's Christmas Tree. Candlewick, 2014. $6.99. ISBN 978-0-7636-7457-1.
The little white mouse Maisy and her friends decorate a Christmas tree in this very simple story for babies. Die-cut on the right edge to emulate tree branches, the text is very brief, describing the activity seen in the illustrations. Done in Cousins' customary deeply saturated thickly painted cartoons, many children will "read" the book just by looking at the pictures. Although Maisy's television series only lasted one season, it is still running on Nick Jr., so this is sure to be popular in December.
McBratney, Sam. Look What I Can Do: A First Concepts Book. Illus. by Anita Jeram.
Candlewick, 2013/2014. $9.99. ISBN 978-0-636-7064-1.
Originally published in Great Britain in 2013, this oversized padded board book features father and son nutbrown hares from the best-seller, Guess How Much I Love You (1994). In this concept book, each page covers a simple concept, from shapes, colors, and numbers to things in nature, the weather, and action words, with varying success.
The first spread features ten small flaps covering a plant or flower depicting a color; the flaps are too flimsy to survive multiple library usage. Also, the colors are soft pastels, with the orange, pink, and brown so close in hue that it may be difficult for a toddler to guess the color.  The next-to-last spread is much more successful, with ten sturdy flaps; each has a numeral on the flap, which lifts to show various small insects or animals, along with the word for the number and the name of the creature. If the entire book was done like the final page, this would have been quite successful.
The other spreads don't have any flaps, except one large flap on the page depicting action words, and these are a little too quiet – just listing some items that show the concept but no story. The shapes page only has three shapes – a triangle-shaped tree, the circle-shaped sun, and a square box. However, the captions are clear, and the only other text is some dialogue between father and son hare.
Overall, this isn't very successful as a concept book, but fans of the characters may enjoy this as a gift. It is unlikely to survive library circulation.
By Penny Peck, San Jose State Univ.