New Books in a Series
Boughton, Sam. Hello, Tiger! Templar, 08/2021. [16p.] $12.99. 978-1-5362-1715-5.
In this follow-up to Hello Bear, Hello Elephant, Hello Whale, and Hello Dinosaur, flaps and gatefold pages are used to describe facts on the title animal as well as other jungle creatures like toucans. The loose, cartoonish art created with paint and ink are pleasing and frame the factual information well. The flaps and gatefolds may tear, but this seems best suited to children old enough to read, so it may hold up to library circulation.
Disney Books. Baby Signs: First Words. Disney Press, 09/2021. [24p.] $7.99. 978-136806557-3.
Disney characters introduce babies and toddlers to simple American sign language movements, including signs for hungry, thirsty, blankie and potty. For example, Pooh is shown with a pot of honey, and a cartoon child demonstrates the sign for hungry, along with a sentence describing the sign. A great way to introduce signs into storytime. Other entries in the "Disney Baby" series include My First Halloween.
Florian, Douglas. We Go to Shul. Illus. by Hannah Tolson. Candlewick, 08/2021. [22p.] $7.99. 978-1-5362-0449-0.
Florian, Douglas. Shabbat Shalom! Illus. by Hannah Tolson. Candlewick, 08/2021. [22p.] $7.99. 978-1-5362-0450-6.
Although there is no series title for these books, they are really nice presentations on Jewish practices. Florian's strong poetry style works well in both books, celebrating the sabbath dinner and attending worship services. The text has a catchy rhythm and works well to introduce Jewish practices to a general audience, and for Jewish families. The full color artwork is also charming.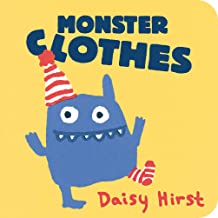 Hirst, Daisy. "Monster" series. Candlewick, 07/2021. [16p.] $7.99 each.
Monster Clothes. 978-1-5362-1528-1.
Monster Food. 978-1-5362-1774-2.
In this humorous look at everyday things, Monsters wear unusual items for clothing, like leaves, and eat unusual things like chairs. The full color artwork has a child-like quality, and the text is a nice blend of reality and imagination. A fun way to ask a child if some choices make sense, but others do not. A strong new series that is well suited to babies and toddlers.
Huang, Yu-hsuan. "Sing Along with Me!" series. Nosy Crow, 08/2021. [8p.] $8.99 each.
Head, Shoulder, Knees, and Toes. 978-1-5362-1716-2.
Hickory, Dickory, Dock. 978-1-5362-2014-8.
A Sailor Went to Sea. 978-1-5362-1717-9.
Twinkle, Twinkle, Little Star. 978-1-5362-2015-5.
Now with 15 entries in this simple series, popular nursery songs are illustrated with full color artwork and augmented with sliding elements. These sturdy books will work well at a baby storytime, and can help families that do not know these songs, especially English learners. A QR code on the back cover allows the reader to access vocal and instrumental versions of the song. The artwork features animals instead of people which may allow for more identification.
Nosy Crow. Who's Hiding in the Desert? Illus. by Katharine McEwen. 07/2021, Nosy Crow. [10p.] $9.99. 978-1-5362-1724-7.
Using small flaps, this factual look at a habitat describes many animals while showing the plants in various deserts around the world. The flaps are somewhat delicate, so this may not hold up to library circulation even though it seems aimed at children old enough to read. Each spread centers on a particular habitat, such as a North American desert, but only animals are shown, not people. Only recommended if other books in the series are popular.
New Holiday Board Books
Nosy Crow. Owl Has a Halloween Party. Illus. by Jannie Ho. Nosy Crow, 07/2021. [8p.] $8.99. 978-1-5362-1734-6.
Owl invites several animals, including lion, tiger, bear, cat, fox, and pig to his Halloween party. They all wear costumes and eat Halloween-style food like candy. Each page has a slider showing a different animal in the full color artwork. Not particularly unique or exciting, but serviceable.
Livney, Varda. Rosh Hashanah with Uncle Max. Kar-Ben, 08/2021. [22p.] $7.99. 978-1-72842-906-9.
Uncle Max visits his niece and nephew, who appear to be African American, in this charming story. They share gifts, food, and sound the shofar. There are a few Hebrew words woven into the story but they are defined. The watercolor cartoon artwork serves the story. This works well for Jewish families and for the general audience as a way to introduce this holiday.
Novich, Susan S. Hello Hanukkah! KarBen, 10/2021. [18p.] $7.99. 978-1-72840-344-1.
A badger and a little bird use Hanukkah candles to demonstrate numbers one through eight. Each spread shows the amount of candles, the word for the number, and the numeral. The colors of the different candles are also mentioned. Badger also demonstrates common Hanukkah traditions like using a dreidel. The adult reader will need to explain more on Hanukkah to fill in other details not mentioned in the story. The full color collage-like illustrations are helpful.
 Penny Peck, San Jose State University iSchool