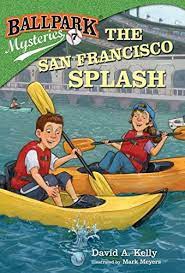 From children's author David Kelly:
I'm the author of the Ballpark Mysteries series of chapter books from Random House, featuring mysteries set in major league baseball stadiums, including the San Francisco Giants (and 18 other teams). Although I'm based in Boston, I will be in California for all of February 2023 and the early part of March. I'm offering a special price on author visits for any California elementary schools that are interested (since I don't have to charge my typically travel fee). Anyone interested can contact me via email at [email protected] or phone 617-969-6886. More information on my visits is available at www.dakvisits.com.
Generally, my presentation is ideal for grades 2, 3, and 4. But it also works well for all elementary grades (pre-K – 5th).
My presentations cover a range of topics, including:
Research (in my case, visiting MLB stadiums!)
Writing (setting, character, mystery ideas, plot, suspense, etc.)
REVISION (always the most important part!)
Illustration
Publication
And time for Q&A
More info on my school visits here – www.dakvisits.com
David A. Kelly
617-969-6886
www.davidakellybooks.com