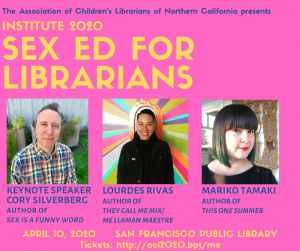 This year's institute topic, SexEd for Librarians, will be a dynamic day of professional development focused on practical implementable strategies for offering accessible, accurate, developmentally appropriate, and inclusive information on sexual and relationship health for youth of all ages and families.
Friday, April 10, 2020
Koret Auditorium, San Francisco Public Library Main Branch
Register now! Discounts are available for ACL members, students, and early-bird registration before Dec. 31, 2019.
Speakers and Presenters include:
Cory Silverberg, Keynote Speaker and Author of Sex is a Funny Word and What Makes a Baby
Lourdes Rivas, Author of They Call Me Mix/Me Llaman Maestre
Mariko Tamaki, Author of Laura Dean Keeps Breaking Up with Me and This One Summer
Tentative Schedule of Events
8:00 AM Breakfast/Exhibitor Hall
8:30 AM Welcome
8:45-9:45 AM Keynote Presentation
9:50-10:50 AM Breakout Sessions
11:00 AM-12:00 PM Panel Presentation
12:00 PM-1:00 PM Lunch
1:00 PM-1:50 PM Breakout Sessions
1:50 PM-2:50 PM Breakout Sessions
3:00 PM-4:00 PM Author Panel
4:00 PM Optional Post-Event Happy Hour
Contribute to our Institute resource list and pose questions for the break-out sessions.
For the health and safety of event participants, please avoid wearing any strong fragrances that could interfere with the enjoyment of the event.
For accessibility information and questions, please email: [email protected]