Since the Middle East is so often in the news, often about war, it might be advantageous to introduce preschoolers to Middle Eastern countries with books focusing on the positive aspects. For a craft project, look at MIDDLE EASTERN CRAFTS KIDS CAN DO! by Sarah Hartman, (Enslow, 2006). Or, cover shoe boxes with geometric cutouts to resemble Moroccan treasure boxes.
Hickox, Rebecca. THE GOLDEN SANDAL: A MIDDLE EASTERN CINDERELLA STORY. Maha has to do all the housework, but a fish helps her find happiness.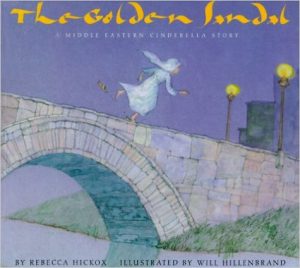 Shah, Idries. A BOY WITHOUT A NAME. A Sufi tale about a boy who is helped by a wise man.
Shah, Indries. THE FARMER'S WIFE. A cumulative tale about a woman trying to retrieve an apple from a hole in the ground.
London, Jonathan. ALI, CHILD OF THE DESERT. During a sandstorm, Ali is separated from his father but a boy and his grandfather give Ali shelter. With realistic watercolor paintings by Ted Lewin.
Lewin, Betsy. WHAT'S THE MATTER, HABIBI? Habibi the camel gives rides to children, but suddenly refuses to move. How can Ahmed get Habibi to give rides again?
Oppenheim, Shulamith. ALI AND THE MAGIC STEW. To collect the ingredients for a healing stew for his father, a boy must seek the help of a beggar he had earlier shunned.
Berson, Harold. KASSIM'S SHOES. A Moroccan folktale about a man who likes his worn out shoes, although his neighbors insist he get new shoes.