Be sure to do some dancing during this storytime – how about The Hokey Pokey? For a craft project, you could make some simple dance skirts out of tissue paper taped to an old belt. Or, make simple hula skirts by taping green streamers to a ribbon tied around the waist.
LaPrise, Larry. THE HOKEY POKEY. The song recreated as a picture book, featuring a cast of multicultural dancers.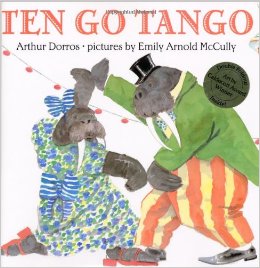 Asch, Frank. MOONDANCE. Bear gets his wish to dance with the moon.
Dorros, Arthur. TEN GO TANGO. Animals do various dances in this rhythmic counting book.
Isadora, Rachel. MAX. Max goes to ballet class on Saturday mornings, before going to his baseball games.
Jonas, Ann. COLOR DANCE. Three dancers use scarves to make colors.
Mathers, Petra. SOPHIE AND LOU. Shy Sophie enrolls in dance class and meets a new friend.
Walton, Rick. HOW CAN YOU DANCE? Get the audience up to demonstrate what you see in the book – how to dance like a marching band, or like a tree in the breeze.
Winthrop, Elizabeth. DUMPY LA RUE. Dumpy, a boy pig, loves to dance but is discouraged in this book that fights stereotypes.
Mitton, Tony. DOWN BY THE COOL OF THE POOL. Frogs and other pond creatures dance.
Schaefer, Carole Lexa. FULL MOON BARNYARD DANCE. The animals decide to hold a dance by the light of the moon, until some clouds interfere with their plans.
Wilson, Karma. HILDA MUST BE DANCING. Hilda Hippo loves to dance even though it is noisy and disruptive to the other animals.
Hest, Amy. MABEL DANCING. While her parents host a party, Mabel is in her nightgown dancing on the stairs.
Andreae, Giles. GIRAFFES CAN'T DANCE. Giraffe loves to dance even though he is clumsy and uncoordinated.
French, Jackie. JOSEPHINE WANTS TO DANCE. A kangaroo proves she can be a prima ballerina.
Durango, Julia. CHA CHA CHIMPS. Counting and dancing are incorporated in this funny story.