A favorite preschool story involves a lost button – Corduroy by Don Freeman! There are several other picture books featuring buttons, that would lend themselves to a great storytime. For a craft, you could do collages where the kids glue buttons to a picture frame, or to a small circle of felt to make a lapel pin. Find more button crafts.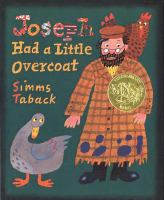 Aber, Linda Williams. GRANDMA'S BUTTON BOX.    In this easy reader, Kelly and her cousins count and sort the buttons from Grandma's button box.
Cullen, Catherine Ann. THE MAGICAL, MYSTICAL, MARVELOUS Coat.    The buttons from a girl's coat assists various creatures she meets along the way.
Freeman, Don. CORDUROY.    A little girl saves up to buy a teddy bear who is missing a button on his overalls.
Freymann, Saxton. GUS AND BUTTON.    Using his signature carved fruit in the illustrations, this story focuses on Gus and his dog Button who learn about colors.
Lamstein, Sarah. I LIKE YOUR BUTTONS!    Complimenting her teacher, a little girl starts a chain reaction of positive praise and good will.
MacDonald, Margaret Red. THE LITTLE ROOSTER'S DIAMOND BUTTON.    Based on a Hungarian folktale, a clever rooster has to get back the diamond button from the greedy king who stole it.
Orgel, Doris. BUTTON SOUP.    A modern retelling of the folktale Stone Soup.
Taback, Simms. JOSEPH HAD A LITTLE OVERCOAT.    In this Yiddish folktale, a man re-makes his tattered coat into a vest, then a shirt, then a button, etc.