There are some great books about the Fourth of July holiday, often with multicultural themes, and you can jazz up this storytime by singing related songs like "Yankee Doodle" and "This Land is Your Land." There are many great websites with craft ideas, such as enchantedlearning.com.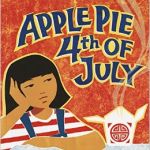 Bertrand, Diane G. UNCLE CHENTE'S PICNIC.    Bilingual Spanish/English. A rainstorm and power failure can't stop the special picnic in honor of Uncle Chente.
Chall, Marsha. HAPPY BIRTHDAY, AMERICA.    Kay and her extended family celebrate.
Joosse, Barbara. FOURTH OF JULY.    At first, Ross is too little to participate, but when he can walk the length of the parade carrying a banner, he proves he is old enough for sparklers.
Keller, Holly. HENRY'S FOURTH OF JULY.    Henry describes his family's trip to the annual holiday picnic.
Osborne, Mary Pope. HAPPY BIRTHDAY, AMERICA!    A family celebrates with a parade, carnival, picnic, and fireworks.
Pomeranc, Marion. AMERICAN WEI.    Wei loses his tooth at this family's American citizenship ceremony, and the diverse group help him find it.
Roberts, Bethany. FOURTH OF JULY MICE.    Four mice celebrate the holiday in this sweet rhyming story.
Seymour, Tres. JAKE JOHNSON – THE STORY OF A MULE.    Farmer Puckett's stubborn mule won't take the fireworks to the fair on the 4th of July.
Wong, Janet S. APPLE PIE FOURTH OF JULY.    Her family runs a Chinese restaurant so a girl has to work during the Fourth of July parade.
Ziefert, Harriet. HATS OFF TO THE FOURTH OF JULY.    Rhyming story of a customary small town celebration.