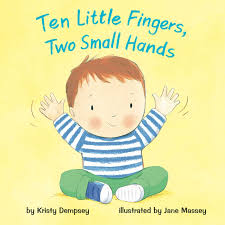 Storytimes for babies and toddlers offer an opportunity to model great read-aloud techniques for parents, and gives them the confidence to read to their children every day.  At times, a baby-toddler storytime will be followed by an extra 20 to 30 minutes of playtime, which encourages parents to talk to each other and for the young children to learn to play with others. It also demonstrates the importance of play to parents.     Often in a baby storytime, there are more songs, fingerplays, and nursery rhymes than there are books. I like to include at least one Mother Goose rhyme in every session, mentioning to parents the importance of learning these rhymes as a way to foster preliteracy skills. I also conclude my baby storytimes by passing out board books to each parent to read to their children before we break for the Stay and Play session.
New Baby
Welcome song:  "Hello Everybody, Yes Indeed"
Mother Goose rhyme: "This Little Piggy"
Get ready song: "Open, Shut Them"
First book: Ten Little Fingers, Two Small Hands by Kristy Dempsey.  A diverse group of toddlers use their hands to eat, play music, count, and more.
Fingerplay:  "Five Little Ducks"
Stretching song: "Rockabye Baby"
Second book: Everywhere Babies by Susan Meyers.  Babies live in all types of families in this celebration of babies.
Movement song: "Head, Shoulders, Knees, and Toes"
Fingerplay: "Here Is a Beehive"
Third book: Baby Born by Anastasia Suen. A rhyming text and joyous illustrations show a baby grow across the seasons.
Closing song:  "The More We Get Together"
Extra book if needed: Good Night Like This by Mary Murphy.  A great book to soothe a baby to sleep, this shows various animals and humans putting their babies to bed.
Board book for parents: Global Babies by Global Fund for Children. Full color photos of babies around the world celebrates infants from a variety of cultures.
Distribute board books for parents to read to their child.  Allow a few minutes for reading time. When nearly everyone has finished, pass out toys for Stay and Play time.