Korea 
Many of our communities have residents whose families originally came from Korea. For a craft project, make these simple paper hats: http://4crazykings.blogspot.com/2012/05/korean-paper-hat-craft.html.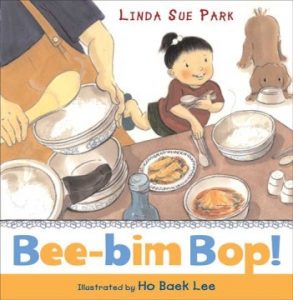 Hong, Nari. Days with Dad. Dad uses a wheelchair but he and his daughter have fun, in this story originally published in Korea.
Kim, Aram. No Kimchi for Me! Yoomi hates kimchi until Grandma makes her kimchi pancakes.
Pak, Jiyeon. My Grandpa's Chair. A little girl thinks a new chair will cheer up her grandpa.
Pak, Po-mi. First Snow. A little girl wakes up in the middle of the night when she hears that it is snowing.
Park, Linda Sue. Bee-bim Bop! A little girl helps her mom make her favorite dish in this rhyming story.
Rim, Sujean. Chee-Kee: A Panda in Bearland. A panda and his family move from Korea to a new country, where he tries to fit in.  
Watts, Jeri Hanel. A Piece of Home. Hee Jun moves to the U.S. from Korea when his father gets a new job, and he needs to learn English.