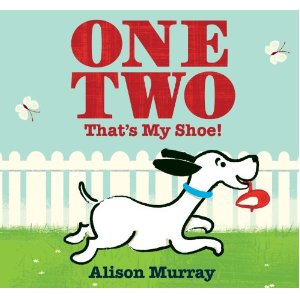 Dogs for Babies
Welcome song:  "Hello Everybody, Yes Indeed"
Get ready song: "Open, Shut Them"
First book: Old Dog Baby Baby by Julie Fogliano.     Short rhymes and repetition highlight this brief tale of a dog who lets the baby use him as a pillow.
Alternate book: Crybaby by Karen Beaumont.     Only Roy the dog knows how to get the baby to stop crying.
Mother Goose rhyme:  "Old Mother Hubbard"
Fingerplay: "How Much Is That Doggie In the Window?"
Stretching song: "B-I-N-G-O"
Second book: One Two That's My Shoe!  by Alison Murray.     In this take-off on "One Two Buckle My Shoe," the audience can count from one to ten as the dog takes the little girl's red shoe.
Movement song: "Head, Shoulders, Knees, and Toes"
Fingerplay: "Five Little Dogs"
Third book: Goodnight, Good Dog by Mary Lyn Ray.     A puppy is not really sleepy as he gets ready for bed.
Closing song:  "The More We Get Together"
Extra book if needed: Where's Spot? by Eric Hill.      With flaps to open, the audience can search for Spot the dog.
Board book for parents: Big Dog and Little Dog by Dave Pilkey.      Although they are different sizes, the title dogs are best buddies in this sweet board book.