Breakfast Storytime – revised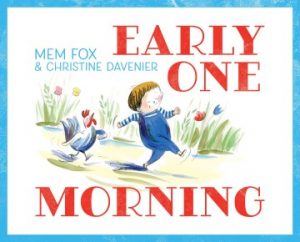 For a craft project, make this paper breakfast plate: Paper Pretend Breakfast – Kid Craft Idea For A Rainy Day (gluedtomycraftsblog.com).
Asch, Frank. Pancakes in Pajamas. Baby Bear suggests the family stay in their pajamas and eat pancakes all day.
Breen, Steve. Woodpecker Wants a Waffle. Woodpecker smells waffles at the nearby diner, and attempts to get some for himself.
Carle, Eric. Pancakes, Pancakes!  Jack makes pancakes from scratch, in this charming story of where our food comes from.
Derby, Sally. No Mush Today. An African American girl is angry about mush for breakfast so she goes to grandma's house.
Fox, Mem. Early One Morning. A young boy goes out to fetch items for breakfast in this interactive story that will get listeners to call out answers.
Funk, Josh. Lady Pancake & Sir French Toast. The two title friends race for the last drop of maple syrup.
Hoban, Russell. Bread and Jam for Frances. Frances will only eat bread and jam for every meal, until her parents persuade her to try something else.
Pym, Christine. Little Mouse's Big Breakfast.  Mouse gathers up several favorite foods but runs into the cat who is also looking for breakfast.
Reed, Lynn Rowe. Bear's Big Breakfast. Awake from hibernation, a bear looks for breakfast items that begin with the letter "B."
Reese, Brandon. Cave Dada: Picky Eater. A Stone Age father and baby invent breakfast when the baby wants an egg to eat.
Stein, David Ezra. Interrupting Chicken: Cookies for Breakfast.  Young chicken tries to wake his father by promising cookies for breakfast. Papa makes pancakes in this cumulative tale.        
See the earlier version of this storytime outline: Breakfast Storytime Ideas (bayviews.org).
Penny Peck, SJSU iSchool