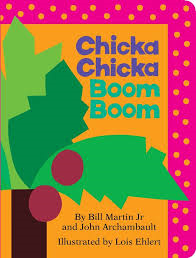 Alphabet for Babies
Storytimes for babies and toddlers offer an opportunity to model great read-aloud techniques for parents, and gives them the confidence to read to their children every day.  A baby-toddler storytime can be followed by an extra 20 to 30 minutes of playtime, which encourages parents to talk to each other and for the young children to learn to play with others. It also demonstrates the importance of play to parents.
Welcome song:  "Hello Everybody, Yes Indeed"
Mother Goose rhyme: "Pat a Cake"
Get ready song: "Open, Shut Them"
First book: Chicka Chicka Boom Boom by Bill Martin. Alphabet parents help their lower case children who have fallen off the palm tree.
Fingerplay:  "ABC Song"
Stretching song: "Way Up High in the Apple Tree"
Second book:  Max's ABC by Rosemary Wells. Max and Ruby attempt to get rid of ants in this funny story that uses the alphabet.
Fingerplay: "Apples and Bananas"
Movement song: "Head, Shoulders, Knees, and Toes"
Third book:  Alligator Alphabet by Stella Blackstone. Animals represent each letter of the alphabet.
Song: "Alphabet Beat"
Extra book if needed: Sleepy ABC by Margaret Wise Brown. Simple rhymes for each letter will lull listeners to sleep.
Board book for parents: Touch and Feel ABC. A rhyming tactile look at the alphabet, with flaps.  
Closing song:  "The More We Get Together"