Tragic Tales for Primary Grades
Beaty, Daniel. Knock Knock: My Dad's Dream for Me.
Bee, William. Beware of the Frog.
Brisson, Pat. I Remember Miss Perry.
Brown, Margaret Wise. The Dead Bird. 
Bunting, Eve. Smoky Night. 
Cohn, Janice. Why Did It Happen?
Cummins, Lucy Ruth. A Hungry Lion, or a Dwindling Assortment of Animals.
Gorey, Edward. The Gashlycrumb Tinies.
Gravett, Emily. Wolves.
Jukes, Mavis. Blackberries in the Dark. 
Kalman, Maira. Fireboat: The Heroic Adventures of the John J. Harvey.
Klassen, Jon. I Want My Hat Back.
Klassen, Jon. This Is Not My Hat.
Lavoie, Matthiew. Toto's Apple. 
Monsen, Avery. All My Friends Are Dead.
Munsch, Robert. From Far Away.
Raschka, Chris. Arlene Sardine.
Raschka, Chris. The Purple Balloon.
Ringtved, Glenn. Cry, Heart, But Never Break.
Rosen, Michael. Michael Rosen's Sad Book. 
Santat, Dan. After the Fall (How Humpty Dumpty Got Back Up Again).
Sauer, Tammi. Nugget & Fang.
Schwartz, Alvin. In a Dark, Dark Room.
Sendak, Maurice. Pierre: A Cautionary Tale.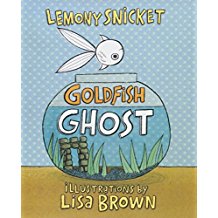 Sherry, Kevin. I'm the Biggest Thing in the Ocean.
Snicket, Lemony. The Composer Is Dead.
Snicket, Lemony. The Dark.
Snicket, Lemony. Goldfish Ghost.
Taback, Simms. There Was an Old Lady Who Swallowed a Fly.
Various. The Gingerbread Man.
Willis, Jeanne. Tadpole's Promise.
Compiled by ACL Members