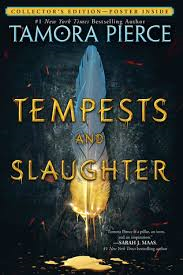 Tempests and Slaughter –
Numair Chronicles, Book 1
by Tamora Pierce
Albert, Melissa. The Hazel Wood.
Bardugo, Leigh. Six of Crows.
Black, Holly. The Cruel Prince. 
Braswell, Liz. As Old as Time.
Bunce, Elizabeth C. StarCrossed.
Kontis, Alethea. "Woodcutter Sister" series.
Maas, Sarah J. A Court of Thorns and Roses.
Paolini, Christopher. "The Inheritance Cycle" series.
Patterson, James. "Witch & Wizard" series.
Pierce, Tamora. "Song of the Lioness" series.
Penny Peck, San Jose State University iSchool