One of the themes of some 2014 Summer Reading Programs was "Fizz, Boom, Read!"  Here are some read-alikes for that theme.
For Little Ones (ages two – five)
Braun, Eric. Let's Rock! Science Adventures with Rudie the Origami Dinosaur.
Plourde, Lynne. Science Fair Day.
Metzger, Steve. Pluto Visits Earth!
Cottringer, Anne. Eliot Jones, Midnight Superhero.
Brett, Jan. Hedgie Blasts Off!
Poydar, Nancy. No Fair Science Fair.
Barnett, Max. Oh, No! Or, How my Science Project Destroyed the World.
Sierra, Judy. The Secret Science Project That Almost Ate the School.
Cobb, Vicki. I Face the Wind.
Rogers, Paul. What Will the Weather Be Like Today?
Joyce, William. Rolie Polie Olie.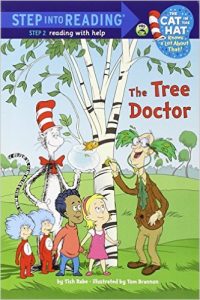 For Early Readers (ages five – six)
Arnold, Tedd. Fly Guy series.
Sateren, Shelley. Max and Zoe and the Science Fair.
Rabe, Tish. The Tree Doctor.
McMullan, Kate. Pearl and Wagner: Two Good Friends.
Parish, Herman. Amelia Bedelia, Rocket Scientist?
Yaccarino, Dan. Blast Off Boy and Blorp series.
Yolen, Jane. Commander Toad series
Moving-Up Transitional Books (ages six – eight)
Tashjian, Janet. Einstein the Class Hamster.
O'Ryan, Ray. Galaxy Zack series.
Gallagher, Diana G. Mice Capades.
Dixon, Franklin. Robot Rumble (Hardy Boys Secret Files)
McDonald, Megan. Stink series.
Holm, Jennifer L. Squish series.
Rex, Michael. Icky Ricky series.
Pilkey, Dav. Ricky Ricotta series.
Benton, Jim. Franny K. Stein, Mad Scientist series.
Etra, Jonathan. Aliens for Breakfast.
Shreve, Steve. Stan and the Toilet Monster.
Butterworth, Oliver. The Enormous Egg.
Klein, Abby. Science Fair Flop.
Green, D.L. Zeke Meeks vs. the Stinkin' Science Fair.
Barrows, Annie. Ivy + Bean What's the Big Idea?
Kerrin, Jessica Scott. Martin Bridge: In High Gear!
For Tweens (ages nine – twelve)
Various authors. Max Axiom, Super Scientist series.
DeWitt, Fowler. The Contagious Colors of Mumpley Middle School.
Hamilton, Kersten. Gadgets and Gears series.
Spradlin, Michael P. Killer Species series.
Stanley, John P. Mickey Price: Journey to Oblivion.
Stine, R.L. Frankenstein's Dog.
Sparkes, Ali. S.W.I.T.C.H. series.
Breitrose, Prudence E. Mousenet.
Ohara, Mo. My Big Fat Zombie Goldfish.
Castle, M.E. Popular Clone.
Armstrong, Alan W. Racing the Moon.
Rex, Adam. Cold Cereal series.
Mihaley, James. You Can't Have My Planet, But Take My Brother, Please.
DuPrau, Jeanne. City of Ember series.
Hawking, Lucy. George's Secret Key to the Universe.
Haddix, Margaret. Among the Hidden series.
Verne, Jules. Journey to the Center of the Earth.
Wells, H. G. The War of the Worlds.
Smith, Roland. Cryptid Hunters.
Krokos, Dan. Planet Thieves.
Hurd, Thacher. Bongo Fishing.
Service, Pamela. Alien Expedition.
Simmons, Michael. Alien Feast.
Daley, Michael J. Space Station Rat.
Aston, Dianna. A Rock is Lively.
Crump, Martha L. The Mystery of Darwin's Frog.
Various authors. Scientists in the Field. series
Various authors. Think Like a Scientist series.
Stewart, Melissa. Animal Grossapedia.
Arnold, Caroline. A Warmer World.
Sill, Cathryn. About Habitats: Oceans.
Hague, Bradley. Alien Deep.
Fern, Tracey. Barnum's Bones.
Marrin, Albert. Black Gold.
Rotner, Shelley. Body Actions.
Burns, Loree Griffin. Citizen Scientists.
Cusick, Dawn. Get the Scoop on Animal Poop!
Murphy, Jim. Invisible Microbe.
Chin, Jason. Island.
Hoose, Phillip. Moonbird.
Abdul-Jabbar, Kareem. What Color Is My World?