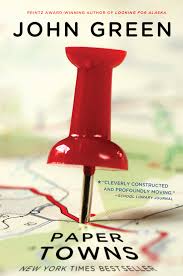 Read-Alikes for Paper Towns by John Green:
Armentrout, Jennifer L. Don't Look Back.
Asher, Jay. Thirteen Reasons Why.
Brooks, Kevin. Black Rabbit Summer.
Chbosky, Stephen. The Perks of Being a Wallflower.
Cohn, Rachel and David Levithan. Dash and Lily's Book of Dares.
Fitzpatrick, Huntley. My Life Next Door.
Forman, Gayle. If I Stay.
Hall, Sandy. A Little Something Different.
Han, Jenny. To All the Boys I've Loved Before.
Henry, April. The Night She Disappeared.
Hiaasen, Carl. Skink: No Surrender.
Kantor, Melissa. The Amanda Project.
King, A.S. Please Ignore Vera Dietz.
LaCour, Nina. The Disenchantments.
Lockhart, E. We Were Liars.
Matson, Morgan. Since You've Been Gone.
McClintock, Norah. About That Night.
Nelson, Jandy. I'll Give You the Sun.
Pauley, Kimberly. Ask Me.
Rosoff, Meg. Picture Me Gone: a Novel.
Rowell, Rainbow. Eleanor and Park.
Schneider, Robyn. The Beginning of Everything.
Vivian, Siobhan. The List.
Westerfeld, Scott. So Yesterday: a Novel.
Whaley, John Corey. Where Things Come Back.
Wynne-Jones, Tim. The Uninvited.
 Penny Peck,  SJSU iSchool