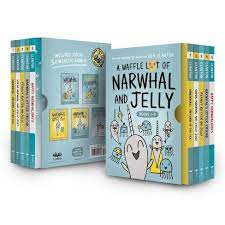 Narwhal and Jelly by Ben Clanton
Abdo, Dan. Blue, Berry, & Pancakes. 
Atkinson, Cale. Simon and Chester: Super Detectives!
Burks, James. Agent 9. 
Burks, James.  Bird & Squirrel. 
Feuti, Norm. Beak & Ally. 
Hashimoto, Meika. Kitty and Dragon. 
Keating, Jess. Bunbun and Bonbon.
O'Hara, Mo. Agent Moose. 
Pizzoli, Greg. Baloney and Friends. 
Shaskan, Stephen. Pizza and Taco: Who's the Best? 
Sherry, Kevin. Squidding Around. 
Smith, Brian "Smitty." Pea, Bee, & Jay.
Song, Mika. Donut Feed the Squirrels.
Penny Peck, San Jose State University iSchool