Last Kids on Earth series by Max Brallier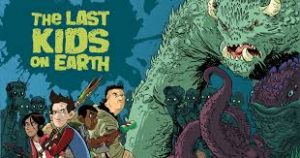 Bacigalupi, Paolo. Zombie Baseball Beatdown.
Barnett, Mac B. Mac Undercover.
Bladek, John. Lost in Ghostville.
Brady, Dustin. Trapped in a Video Game.
 Corville, Bruce. Always October.
 Emerson, Kevin. Last Day on Mars.
 Emerson, Marcus. Diary of a 6th Grade Ninja.
 Fisher, Sam. Scare Scape.
 Funke, Cornelia. Ghosthunters and the Muddy Monster of Doom!
 Gidwitz, Adam. The Creature of the Pines.
 Hatke, Ben. Mighty Jack.
 Jobling, Curtis. Max Helsing and the Thirteenth Curse.
 Perkins, Lynne Rae. Nuts to You.
 Philbrick, W.R. The Big Dark.
 Ringwald, Whitaker. The Secret Box.
 Schweizer, Chris. The Trolls Will Feast!
 Searles, Rachel. The Lost Planet.
 Shaughnessy, Adam. The Entirely True Story of the Unbelievable FIB.
 Whitehouse, Howard. Zombie Elementary.
Penny Peck, San Jose State University iSchool