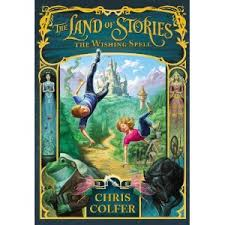 Read-alikes for Chris Colfer's "The Land of Stories" series.
Bach, Shelby. Of Giants and Ice series. S&S, 2012.
Baker, E.D. The Wide-Awake Princess series. Bloomsbury, 2010.
Barnhill, Kelly. Iron Hearted Violet. Little Brown, 2012.
Burt, Marissa. Storybound series. HarperCollins, 2012.
Columbus, Chris. The House of Secrets. Balzer+Bray, 2013.
Funke, Cornelia. Inkheart. Scholastic, 2005.
Gidwitz, Adam. A Tale Dark & Grimm series. Dutton, 2010.
Grabenstein, Chris. Escape from Mr. Lemoncello's Library. Random, 2013.
Hale, Shannon. Princess Academy. Bloomsbury, 2005.
Healy, Christopher. The Hero's Guide to Saving Your Kingdom series. Walden Pond, 2012.
Littlewood, Kathryn. Bliss series. Katherine Tegen Books, 2012.
McGowan, Keith. The Witch's Guide to Cooking with Children. Holt, 2009.
Mlynowski, Sarah. Fairest of All series. Scholastic, 2012-2015.
Oliver, Lauren. The Spindlers. HarperCollins, 2012.
Richards, Jasmine. The Book of Wonders. Harper, 2012.
Riley, James. Half Upon a Time series. Aladdin, 2010.
Shurtliff, Liesl. Rump: The True Story of Rumpelstilskin. Knopf, 2013.
Soman, Chainani. The School for Good and Evil. HarperCollins, 2013.
Vande Velde, Vivian. Three Good Deeds. Harcourt, 2005.