Read-Alikes for Junie B. Jones series by Barbara Park, featuring feisty primary grade female characters.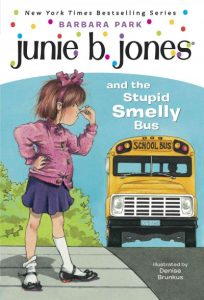 Barrows, Annie. Ivy and Bean series.
Cleary, Beverly. Beezus and Ramona series.
Conford, Ellen. Annabel the Actress series.
Conford, Ellen. Jenny Archer series.
Danziger, Paula. Amber Brown series.
Edwards, Michelle. Pa Lia's First Day .
Gifford, Peggy Elizabeth. Moxy Maxwell series.
Greene, Stephanie. Princess Posey series.
Greenwald, Sheila. Rosy Cole series.
Grimes, Nikki. Dyamonde Daniels series.
Haddix, Margaret Peterson. The Girl with 500 Middle Names.
Harper, Charise M. Just Grace series.
Hermes, Patricia. Emma Dilemma series.
Kelly, Katy. Lucy Rose series.
Kline, Suzy. Mary Marony series.
Krulik, Nancy. Katie Kazoo series.
Lin, Grace. Year of the Dog series.
Look, Lenore. Ruby Lu series.
Lowry, Lois. Goonie Bird series.
McDonald, Megan. Judy Moody series.
Pennypacker, Sara. Clementine series.
Stern, A. J. Frankly Frannie series.
Stout, Shawn K. Fiona Finkelstein series.
Warner, Sally. Only Emma series.
Penny Peck