READ-ALIKES
Freewater 
By Amina Luqman-Dawson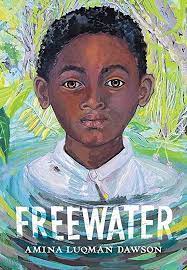 Alexander, Kwame. The Door of No Return.
Anderson, Laurie Halse. Ashes.
Bradbury, Jennifer. River Runs Deep. 
Burg, Ann E. Unbound.
Carbone, Elisa. Stealing Freedom.
Collier, James Lincoln. Jump Ship to Freedom.
Curtis, Christopher Paul. The Journey of Little Charlie.
Hyman, Harriet. Martha and the Slave Catchers. 
Pearsall, Shelley. Trouble Don't Last.
Rinaldi, Ann. Numbering All the Bones.
Russell, Krista. The Other Side of Free.
Tingle, Tim. Stone River Crossing.
Turner, Glennette Tilley. Running for Our Lives.
Winston, Sherri. Journey to Freedom, 1838.
Woods, Brenda. My Name is Sally Little Song.
Penny Peck, San Jose State University iSchool