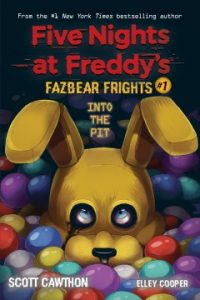 READ-ALIKES Five Nights at Freddy's by Scott Cawthon  
Coville, Bruce. Odds Are Good: An Oddly Enough and Odder Than Ever Omnibus.
Coville, Bruce. Odder Than Ever: Stories. 
Coville, Bruce. Oddest of All. 
Hahn, Mary Downing. The Puppet's Payback and Other Chilling Tales. 
Kress, Adrienne. "Bendy and the Ink Machine" series.  
Riggs, Ransom. Miss Peregrine's Peculiar Children series.
Roux, Madeleine. Asylum series.  
Shan, Darren. Cirque du Freak.
Smith, L.J. Forbidden Game.  
Stine, R.L. Fear: 13 Stories of Suspense and Horror.
Stine, R.L. "Goosebumps" series.
Stolarz, Laurie Faria. Dark House series.
Strange, Vera. "Disney Chills" series.
West, Carly Anne. "Hello Neighbor" series. 
Penny Peck, San Jose State University iSchool