READ-ALIKES 
"Cat Kid" series  by Dav Pilkey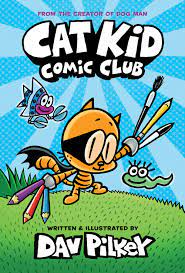 Annable, Graham. Peter and Ernesto: The Lost Sloths.
Arnold, Tedd. Noodlehead Nightmares.
Bell, Cece. Chick and Brain: Egg or Eyeball.
Bell, Cece. Smell My Foot!
Cathon. Poppy and Sam and the Search for Sleep.
Farina, Katy. Baby-sitters Little Sister series.
Fenske, Jonathan. A Pig, a Fox, and a Box.
Ferry, Beth. Fox & Rabbit series.
Green, John Patrick. InvestiGators.
Gurney, John Steven. Fuzzy Baseball series.
Higgins, Ryan T. We Don't Eat Our Classmates.
Pizzoli, Greg. Baloney and Friends. 
Ruzzier, Sergio. The Party.
Rylant, Cynthia. Motor Mouse.
Santat, Dan. The Cookie Fiasco.
Shaskan, Stephen. Pizza and Taco: Who's the Best?
Smith, Brian "Smitty."  Pea, Bee, & Jay: Stuck Together. 
Spires, Ashley. Binky the Space Cat.
Spires, Ashley. Fluffy Strikes Back.
Stilton, Geronimo and Elisabetta Dami. The Sewer Rat Stink. 
Tharp, Jason. All Ketchup, No Mustard.
Underwood, Deborah. Here Comes the Easter Cat!
Yanish, Ben. Shark and Bot.
Penny Peck, San Jose State University iSchool