Welcome Our New Helfeld Scholars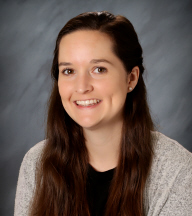 Audrie Adams: I'm a former elementary school teacher with about ten years of experience, now transitioning into a new chapter! I recently completed a summer internship at San Bruno Public Library (SBPL) where I spent all my time focusing on children's services. I was just recently hired on at SBPL as a library assistant and I will be in charge of running the Homework Center. I'm also a full-time graduate student in the MLIS program at San Jose State University and plan to graduate in Spring 2024. My true passions lie in working with children and the community, offering valuable public services, and helping kids discover books they love. Ultimately I would love to be a youth services librarian at a public library. When I'm not busy, you might find me curled up with a good book, crocheting, or practicing yoga.
Hua Zhang: Hua is a graduate student in the Master of Library and Information Science (MLIS) program at San Jose State University, specializing in school librarianship and public librarianship. She earned her B.A. in Communicative Disorders and Science in 2020. Her experience working with young children has emphasized the importance of providing suitable materials to influence children's learning journeys. By integrating her education and library science knowledge, she can positively contribute to discovering and evaluating excellent books. Hua Zhang is grateful for being named a Dorothy Helfeld Fellow and is eager to learn and establish new professional connections. Thank you for including her.
Maya Sungold (they/them): I currently work as a traveling librarian at Oakland Public Library and Berkeley Public Library. I have a BA in Relational Community Organizing from Hampshire College and an MSLIS in Youth Services from Simmons University. Librarianship is a new-ish career for me, but working with youth is not and I've been lucky to work with youth of all ages in the fields of education, art, and social change. I love that I get to wear all my hats at the library! I have a strong passion for youth-led programming and community partnerships. Outside of work, I enjoy reading middle grade novels, obscure memoirs, and queer romance. I'm excited to join ACL's community of practice!