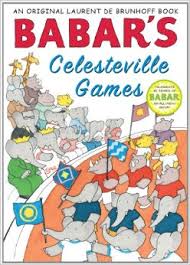 The 2016 summer reading theme for both the Collaborative Summer Library Program and iREAD from the Illinois Library Association (which is often used in California with materials supplied by the California Library Association), is focusing on sports and games. You can use a different sport for each week's storytime theme, from the Olympics, to baseball or basketball, to other types of games.
Olympics – Revised    For an Olympic-themed family storytime you can play games and make crafts. Make some simple Olympic Rings out of paper plates. Then, use them to play ring toss.
Boiger, Alexandra. Max and Marla.  Best friends aspire to Olympic success, so they practice on their sled.
Brunoff, Phyllis Rose de. Babar's Celesteville Games.  Babar and his family are hosting the Olympic games! Also available in Spanish.
Fox, Mem. Koala Lou.  Koala Lou enters the Bush Olympics to get her mother's attention.
Jamieson, Victoria. Olympig!   Boomer trains for the Olympics but misses out on a medal.
Lester, Helen. Tacky and the Winter Games.  Tacky the penguin and his friends train for the Olympic games.
Morales, Yuyi. Niño Wrestles the World.  Inspired by lucha libre wrestlers, Niño takes on the personae of a masked wrestler.
Thompson, Kim. Caillou Backyard Olympics.  Caillou wants a blue ribbon like Clementine has, so he organizes a backyard Olympics.
Wheeler, Lisa. Dino-Swimming.  Plant-eaters compete against meat-eaters at a swim meet. 
App:  Go Noodle.
This storytime was developed in conjunction with the 2016 Summer Reading Program, "Read for the Win."
Penny Peck,  SJSU iSchool