READ-ALIKES 
American Born Chinese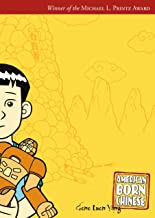 by Gene Luen Yang
With the recent debut of the Disney+ series "American Born Chinese," based on Gene Luen Yang's award-winning graphic novel, you may have children requesting the book. Here are some read-alikes to offer once children have read Yang's book.
Becker, Harmony. Himawari House.
Chee, Traci. We Are Not Free. 
Elhillo, Safia. Home Is Not a Country.
Gao, Laura. Messy Roots.
Gibney, Shannon. The Girl I Am, Was, and Never Will Be.
Gracia, Anna. Boys I Know.
Ha ,Robin. Almost American Girl.
Hoang, Van. Girl Giant and the Monkey King.
Holland, L. Tam. Counterfeit Family Tree of Vee Crawford-Wong.
Jiang, Ji-li. The Magical Monkey King: Mischief in Heaven.
Khor, Shing Yin. The Legend of Auntie Po. 
Kuhn, Sarah. From Little Tokyo, With Love.
Nguyen, Trung Le. The Magic Fish. 
Yang, Gene L. The Books of Clash. 
Yang, Gene L. The Shadow Hero.
Yoon, David. Frankly In Love.
 Penny Peck, SJSU iSchool